Chiropractic Care for Your Children in Tucson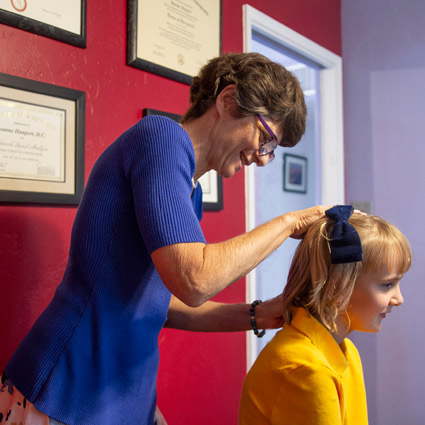 Children's nervous systems are just as susceptible to stress and trauma as adults'—in fact the trauma of birth can cause issues that, if left unaddressed, may result in neurosensory issues like ADHD and anxiety or other problems like poor sleep, failure to thrive and an inability to cope.
At Inspired Healing, we provide care for newborns through great-great grandparents. Parents typically bring their child to us when other options have failed, and we start by offering hope. The anxiety of not getting better compounds the problem for children, and they can start to think that the problem is them.
Dr. Joanne is relaxed, and kids are attracted to her energy. She meets them where they are and helps them understand that they aren't the problem. We update your child's nervous system so they can hear and trust their body's wisdom which creates healing and confidence.
NEW PRACTICE MEMBERS »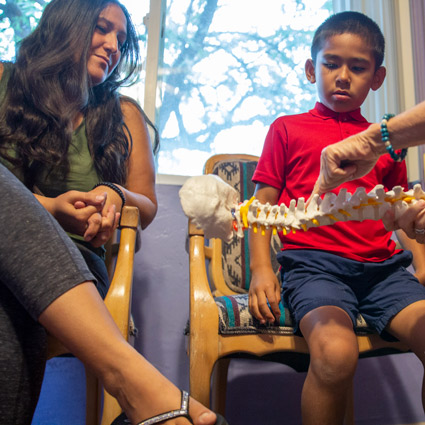 Creating a Safe Space
For infants and children who are stuck in fight-or-flight mode, a new environment like a doctor's office can be triggering. Our office is kid-friendly, warm and welcoming.
We have a great office doggie, Blueberry, that helps kids relax. We can do Network Spinal entrainments on kids when they're standing up, playing or even being held by a parent. The work is so quick and gentle that kids often don't even notice when we're done.
Once the initial trepidation is gone, kids love our care and it's not uncommon for siblings to argue over who gets to go first!
We have a group room with four tables in it, so a whole family can get care at the same time. When one person's nervous system begins to unwind, there's a synergistic effect that occurs, helping the other people in the room relax as well.
Benefits of Care
Parents and kids report that, with regular care, children are calmer and sleep better, have better balance and coordination, enjoy higher self-esteem, are less reactive and deal with transitions better. They also get fewer colds and ear infections.
Book Today
Contact us today to schedule an appointment for your child—or for the whole family!
---
Pediatric Chiropractic in Central East Tucson AZ | (520) 584-0343